Full-stack developer
Job location: Kyiv
With Eurosender, you don't simply start a new job. When you join us, you become a member of the team behind digital logistics. Yes, we do offer all the usual employment perks, but that is not why you should become one of us. You should join us if you are ready to go above and beyond to make logistics more efficient for future generations and the environment.
We are growing our organization at a fast pace, but we want to build it solidly with our core values always in sight. That means you will work in a collaborative, bold, and progressive team of individuals from all over the world with a common vision: to become the no. 1 global digital logistics hub.
ABOUT OUR IT TEAM
Check out THIS BLOG - Tomaž Jakomin, Senior developer, about his journey with Eurosender.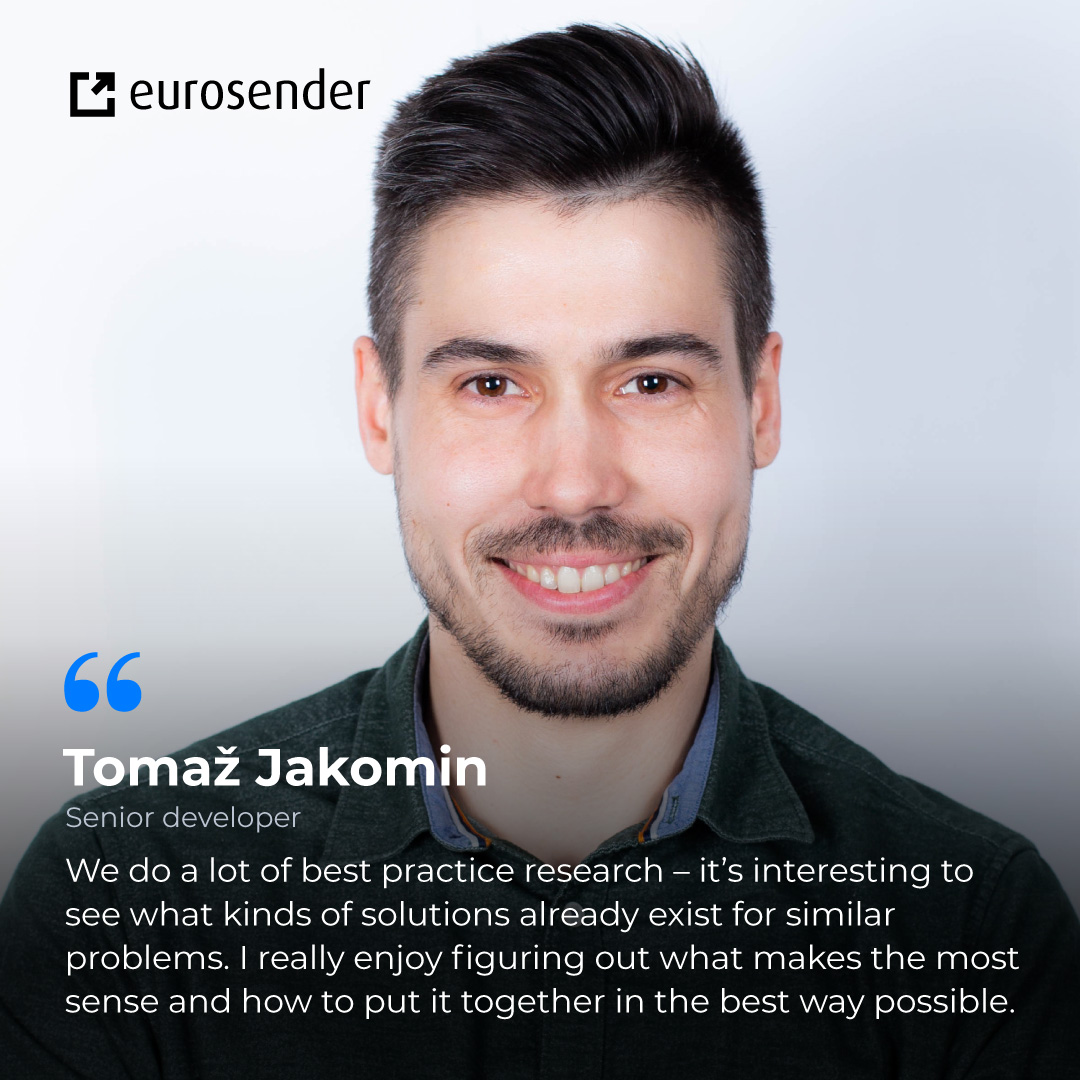 Our IT team is a strongly connected bunch of backend and frontend developers, UX/UI designers, QA engineers and project coordinators with a strong affinity towards teamwork. We operate in 4 sub-teams with colleagues currently tuning in from our Kyiv, Ljubljana and Luxembourg offices. We are really excited about growing our talented team and would love to see you be a part of it.
We are responsible for researching, designing and implementing new product features, implementation of courier integrations, maintaining the system infrastructure, its performance and scalability and all the integrations to the digital tools other departments use. We cooperate closely with all departments, but mostly with Operations, SEO and Finance. Our work is mostly project implementation, accompanied by quite some tech support and ad hoc urgent tasks in parallel.
RESPONSIBILITIES WE WILL TRUST YOU WITH
producing clean, efficient, and secure code according to specifications,
working closely with a team of developers, UI designers, business and systems analysts,
maintain and improve the performance and security of existing software,
communicate effectively and professionally in all forms of communication with internal and external customers.
SKILLS WE WOULD LIKE YOU TO BRING TO THE TEAM
intermediate English,
good knowledge of PHP, Symfony and Twig
experience with Git, Rest API, MySql,
familiarity with either Sulu, Docker, Heroku, JavaScript or NPM is a plus,
collaborative, bold and progressive attitude,
problem-solving mindset.
WE OFFER YOU MORE THAN JUST A NEW JOB TITLE
paid vacation days and sick leaves;
health insurance/gym after passing the probation term;
an opportunity to grow together with a young and expanding international company;
a dynamic and fast-paced environment where your ideas and opinions count;
an opportunity to work in a very connected international team that sticks together in challenging times;
fun and informal vibe in our spacious new Kyiv offices;
flexible working time and a budget for learning and development,
tech equipment of your own choice.
THIS IS WHY ARE WE EXCITED ABOUT DIGITALISING LOGISTICS TOGETHER
We are excited about the thought of standing side by side with global logistics giants and making sure we reduce the complex logistics process to a few clicks.
We really enjoy working together and we know we can count on each other in challenging times.
We feel good in our brand-new offices in Ljubljana, Kyiv or Luxembourg (with lots of space for socializing and relaxation).
We enjoy learning about each other at regular team buildings and every Friday at Friday Croissants.
Talking to colleagues from different countries and continents makes us feel like we are travelling every day.
We are aware that as we grow rapidly as a company, the opportunities for the personal career development of each of us also grow exponentially.