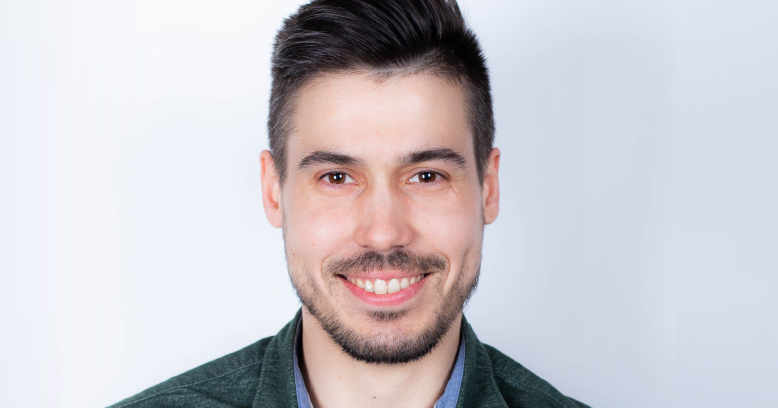 When transitioning from a student to a full-time job in 2015, Tomaž's first priority is to find a bigger company, potentially somewhere out of his hometown, where he would be able to grow his back-end expertise. At that time, Eurosender was a team of 7 people. How did Tomaž Jakomin, now our Senior back-end developer, end up with us, you'd ask? Some would call it destiny, some coincidence, but all we say, is: we're happy it happened.
Tomaž has been interested in computers since he was a kid.
"I knew a guy who knew a lot about programming, and he showed me around a bit. It was enough for me to get interested in it and so I decided to enrol into Computer/IT science programme,"
remembers Tomaž. Even though he initially thought he will work in network administration, his student job led him to PHP. And he was hooked by the vast world of the back end.
About being a developer in a start-up
After applying to Eurosender's job ad, successfully completing a task and talking to our founders, Jan and Tim, Tomaž decided to go for it and to enter the start-up world. And it was indeed quite hectic at the beginning:
"As one of the first developers at Eurosender, I needed to use all of my resourcefulness and creativity to deal with the tasks. Tasks were sometimes written on a piece of paper, sometimes in Word, sometimes they came via mail, sometimes it was just directly told. Everything was urgent, the majority needed to be finished asap, but I really enjoyed it. It was great to work on your own product, seeing it grow and evolve,"
says Tomaž.
In time, more and more stability, direction and predictability were implemented into our software development processes. That makes it easier to plan everyone's time effectively and to really think about the best possible solution, not just grab the first one that comes by. Tomaž:
"Working in a hectic environment at the beginning was a great learning experience, but I prefer the more structured way we work today. However, the past experience does enable me to find mistakes faster and to see the bigger picture whenever digging into a new project."
Back-end projects today
Some projects that Tomaž is now working on have been a constant since day one, but there are many new challenges as well. One of his favourites now is order process redesign, where he has the opportunity to implement a lot of new practices and technologies.
"We're constantly looking for new and more efficient ways to write the code. We want to make sure it's well documented and expandable. We do a lot of best practice research as well – it's interesting to see what kinds of solutions already exist for similar problems. I really enjoy figuring out what makes the most sense and how to put it together in the best way possible,"
says Tomaž.
About the team
His favourite thing about working with Eurosender is the relaxed atmosphere, where everyone is happy to help and where there are no hierarchy pressures. The biggest challenge, on the other hand, is figuring out how to satisfy all the business needs – acquiring all the information and produce something that will work as imagined and will bring value to the user and the company. Or, as Tomaž puts it:
"It's both challenging and satisfying when you try to transform the idea into a working solution. Sometimes new options and ideas pop up while we're already actively working on a task – you can never cover all the possible scenarios. But the important thing is to understand the problem well and to be persistent."
There are a few skills and traits that Tomaž sees as crucial for all (future) Eurosendees: persistence, teamwork and honesty. Those of you who are ready to keep pushing even when the solution is not the most obvious, who enjoy when collaborating with others and who are not afraid to admit that they don't know something (but are willing to learn), will thrive in our international IT team. Check out open positions! >> https://careers.eurosender.com/